Heat Wave Dress – Peach
It's getting hot in here! Bring in the heat wave in this mini dress! It features a deep neckline and narrow shoulder straps. You'll love adding this dress to your closet for all our dress needs this season! Featuring a curve-hugging silhouette with wrap detail at the waist. V-neck and asymmetrical skirt. Slip on styling. Pair with your favorite heels to complete the look!
Many husbands will tell you that they have a hot wife. A hot wife and a trophy wife are not necessarily the same, but can be. We will not get into the differences. …. Here, we are talking about dressing a hot wife.
CLICK HERE to view more very short dresses
Husbands and men in general tend to get excited by just looking at a pretty woman or a woman who likes to dress a little sexy. An old cliché is "Beauty is in the eye of the beholder". This basically means that beauty is undefinable…..But is it really?
What it really means is that each of us have our own view of what beauty and sexy means. Therefore we are all beautiful in someone's eyes.
Hot wife dress is to impress her husband or man of her choice…..
It seems that the proper attire can stimulate a man's attention in a woman that he may not have had an interest in before……Does this mean that the man is more interested in her clothes than in her for herself? Do you choose a car by the color or the body style? Does your favorite style look better to you when painted red, blue of black? Most people chose a style and then pick a color that appeals to them.
A hot wife fully understands the power of the proper "paint and upholstery" and she will dress accordingly.
Let's take another look at the dress pictured above. Forget about the plunging neck line that leaves an ample view of some nice….ahh umm…..lady parts. It is quite obvious that a bra is not nor could be worn here. This would probably not get a man to take a second look…..A man would need to be in a coma to have not taken notice of those head lights.
Consider the wrap around look of our example dress. Klingy material. Tied on the side. In most men's mind……this is an accident waiting to happen or they are wishing for a miracle.
The hem is draped in a way that from the side the skit is knee length. But from the front the skirt is very short. Plenty of leg is exposed and some men would look at the short front an actually wonder if she is wearing black panties or white panties.
This is a view of our lace pantie display
By just viewing a woman wearing this dress, considering the absence of a bra, considering the short front, considering the way the dress clings to the body……one could get the idea that the dress is the lone piece of clothing.
Forget about the short hem line. The question is "does she….or….does she not". The answer to this question is what makes a hot wife really hot…..A hot wife is every man's dream.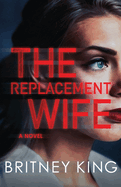 While you are pondering the "question" you may wish to read this book.
.
Hot Wife Dress
.
.