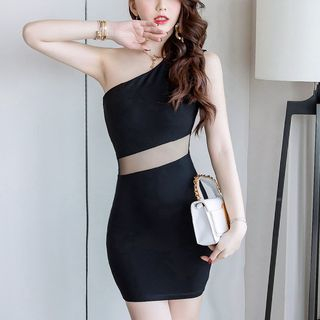 Sheer Panel Single Shoulder Sheath Party Dress
Bare shoulder…Sheer mid-rift…Short hem line.
A trophy wife should always look her best. Play the part well at dinner party or lunch with husband. It really doesn't matter what the event or occasion, a true trophy wife should dress the part.
.
Dressing as a trophy wife does not mean dressing slutty, but it does mean to dress to look better than any other female in the room. The attention that you get should be like an art aficionado admiring a master piece painting.
Legs and skin with out being vulgar.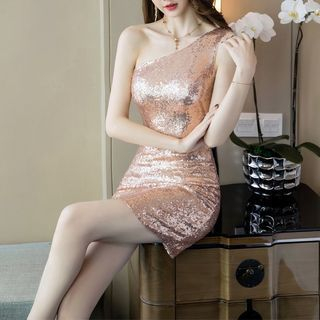 Sleeveless Glitter Sheath Party Dress
This is a beautiful dress for a beautiful woman. Classy party dress for that dinner party. Short hem and skin tight…..Sophisticated design for the lady who knows how to control the world.
Lots of leg exposure, bare arms and shoulder. Color is light and blends with the creamy smooth skin.
Always wear a pair of high heel shoes. High heels do not need to be stiletto. Actually 3 inches will do very nicely.
Dress Code Trophy Wife. Actually a dress code does not exist……just suggestions to help a trophy wife or a budding trophy wife look like a trophy wife.
.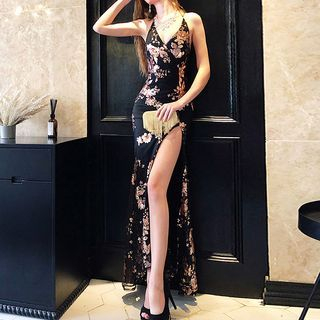 Strappy Open Back Sequined Slit Maxi Party Dress
Short is not always appropriate, but leg exposure is always desirable. Long dress with a fill slit is a sophisticated way to show the beautiful leg.
This beautiful dress has a deep vee neck and is sleeveless. Skin exposure is perfect. The slit is very high allowing full exposure of a beautiful leg when the wearer is walking. While standing this appears to be a very nice maxi dress. Sophisticated teasing at it's best. Perfect for the trophy wife.
Dress Code Trophy Wife
.
.